The sleek Sendo X2 Music Phone, announced today, is a state-of-the-art digital music player that doesn't compromise on phone features or usability. The bold new phone is the first in a series of innovative mobile entertainment devices from Sendo.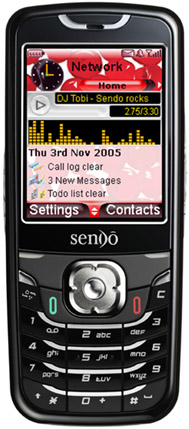 The Sendo X2 boasts high quality sound direct from the phone or through the included stereo headset. It supports the hugely popular MP3 format and offers easy transfer of music from a PC over Bluetooth or USB, so that users have instant access to all of their music. Plus, the Sendo X2 is one of the first phones to support the high-quality, efficient AAC and AAC+ music formats adopted by the mobile industry as standards. Also, the Sendo X2 offers protection to music sellers and content owners with advanced Open Mobile Alliance digital rights management. Most importantly, tapping in to all of these features couldn't be easier.
Ron Schaeffer, Product Management Director for Sendo, commented, The Sendo X2 is the first phone that makes playing music truly as simple as making a call. Just switch the phone on and press Play. There's no wading through menus or searching to find your songs. The exclusive Sendo Now! Screen with its built-in Music Player and clear control keys literally put your music at your fingertips.
Phones haven't really been credible alternatives to dedicated digital audio players until now. The Sendo X2 changes all that. It's got the music format support that both consumers and operators want, memory that's expandable to over 1GB and rich, high quality sound powered by Sendo's custom-designed SoniX system.
"With the Sendo X2, you've got only one light device to carry around and one set of headphones to manage. When you make or receive a call, the music pauses, ready to resume from the same point when you're done", Schaeffer concluded.

The acclaimed Sendo Now! Screen means that both operators and consumers can adapt the phone to the way they want to use it. For the consumer, it's an all-in-one music and communication device, while for operators it's a highly customisable phone that will help to drive sales and ARPU through its uniquely easy access to their music services and wealth of powerful features.
The 18mm-thin Sendo X2 is the smallest and lightest Symbian OS phone announced to date at just 85cc and a mere 95g.
Other powerful features include:
1.3MP camera with 8x digital zoom and camcorder
Approximately 32MB free memory expandable to over 1GB with tiny miniSD cards
Bluetooth and USB connectivity, including charging over USB from a compatible PC
Large, bright 2.2" TFT, 65,536 colour display
Speaker independent voice recognition for quick access to all of your contacts without lots of training
Real HTML internet browsing capability plus WAP
Triband GSM/GPRS
Symbian OS / Series 60 and Java MIDP application support
The Sendo X2 will be available in Europe during this summer.